UK bans TikTok on government phones; Chinese embassy urges respect of 'facts'
The UK has banned TikTok on government phones with immediate effect, a move that follows other Western countries who have barred the Chinese-owned video app over security concerns.
Britain's Cabinet Office minister Oliver Dowden said, "the security of sensitive government information must come first, so today we are banning this app on government devices, the use of other data-extracting apps will be kept under review."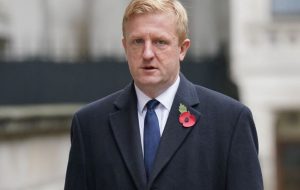 The Chinese-owned video app said it was disappointed with the decision.
A representative from TikTok stated that they believe the bans imposed on their platform are based on misunderstandings and influenced by larger political issues, in which TikTok and its users in the UK have no involvement.
TikTok expressed its commitment to working with the UK government to address any concerns but stressed that it should be judged on facts and treated equally to its competitors. The Chinese embassy criticized the UK's decision to ban Huawei from its 5G network, accusing them of making the decision for political purposes rather than based on facts. They also urged the UK to respect objective facts, abide by the rules of the market economy and the principle of fair competition, and provide a fair, transparent, and non-discriminatory business environment for enterprises of all countries.
Sources: CGTN