Grief and anger in Greece as public demand train crash answers
More protests are expected in Greece four days on from the worst train crash in the country's history, which claimed the lives of 57 people.
On Friday, they held the funerals of the first people who died. But some families and people who helped with the rescue are still looking for the things and bodies of those who haven't been found yet.
As the clean-up and recovery operation continues at the crash site outside of the city of Larissa, inside the train station a vigil has been formed in memory of those caught up in the tragedy.
Hearts are heavy this weekend, with many people laying flowers, lighting a candle, and praying for the people, many of them students, who lost their lives.
The Greek public are demanding answers as they try to find out the full facts about the cause of the crash.
North of Larissa, the funeral for the first victims of Greece's worst rail disaster was held on Friday after families received the remains of their loved ones following an identification process. But some families continue to look for answers at hospitals and at the crash scene as many people remain missing.
The 59-year-old station manager based in Larissa has been arrested over the deadly collision. The accused is facing felony charges of multiple counts of negligent manslaughter and other charges.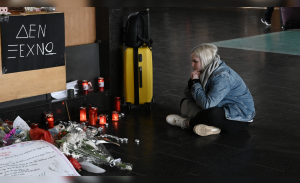 Sources: CGTN
Photo Credit: CGTN,