Fiji on high alert over Japan's plan to discharge nuclear-contaminated wastewater.
Fiji's Acting Prime Minister Manoa Kamikamica said on Friday that the country has been on very high alert after Japan planned to discharge the Fukushima nuclear-contaminated wastewater into the Pacific Ocean.
According to local media, Kamikamica said a question that has been asked is if the Advanced Liquid Processing System (ALPS) treated water is so safe, why not re-use it in Japan for alternative purposes, in manufacturing and agriculture for instance.
He emphasized the crucial significance of the Pacific Ocean's health to the people of Fiji. The ocean is not only a means of livelihood for many Fijians but also the only location worldwide with a healthy population of tuna. Additionally, the ocean plays a vital role in the Pacific Islands Forum's (PIF) 2050 Strategy, which aims to safeguard the ocean and its inhabitants by emphasizing preservation, protection, and security.
As outgoing Chair of the PIF, he noted that Fiji stands with the decision of the PIF leaders in Nadi last week that the planned release of ALPS-treated water by the Japanese government should be guided by science and data.
He pointed out that the planned release by Japan will have trans-boundary impacts across the Pacific and it is important that they reach a shared understanding on the implications of this release before they move ahead.
The PIF has established an independent panel of scientific experts to advise its members on this complex issue and to review the data and information about Japan's position on this matter, he said, adding that in simple terms the experts have not been able to reach the same conclusion as the Japanese government and the International Atomic Energy Agency (IAEA), based on the data and information that has been shared with them.
The PIF has urged Japan to delay its discharge of wastewater contaminated by the wrecked Fukushima Daiichi Nuclear Power Plant into the Pacific Ocean.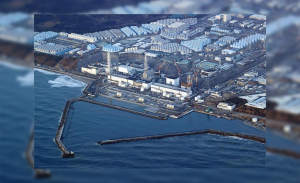 Sources: CGTN