Chinese President Xi Jinping meets with Russian President Vladimir Putin in Moscow
Chinese President Xi Jinping met with his Russian counterpart, Vladimir Putin, at the Kremlin on his arrival in Moscow on Monday.
When Xi reached the Kremlin, he was greeted by the Kremlin Commandant at the alighting point. Putin warmly shook hands and took photos with Xi. The two presidents had an in-depth and candid exchange on China-Russia relations and issues of mutual interest.
Xi stressed that there is a profound historical logic for China-Russia relationship to reach where it is today. China and Russia are each other's biggest neighbor and comprehensive strategic partner of coordination. Both countries see their relationship as a high priority in their overall diplomacy and policy on external affairs.
China always upholds an independent foreign policy, he added. To consolidate and develop well China-Russia relations is a strategic choice China has made on the basis of its own fundamental interests and the prevailing trends of the world.
Xi said the two countries should further deepen practical cooperation in various fields and strengthen coordination and collaboration on multilateral platforms such as the UN to boost their respective national development and rejuvenation, and be a bulwark for world peace and stability.
Putin extended a warm welcome to Xi for his state visit to Russia and once again warmly congratulated him on his reelection as Chinese president.
With concerted efforts by both sides, Russia-China relations in recent years have delivered fruitful results in various areas, Putin said, adding that Russia stands ready to continue to deepen bilateral practical cooperation, step up communication and collaboration in international affairs, and promote world multi-polarity and greater democracy in international relations.
The two sides had an in-depth exchange of views on the Ukraine issue.
Xi stressed that, on the Ukraine issue, voices for peace and rationality are building. Most countries support easing tensions, stand for peace talks, and are against adding fuel to the fire. A review of history shows that conflicts in the end have to be settled through dialogue and negotiation.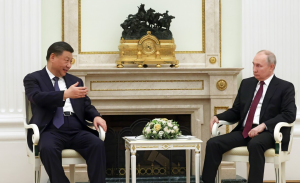 Sources: CGTN
Photo Credit: KTVQ , Sputnik News