Belarusians celebrate Maslenitsa to welcome spring
Maslenitsa, or pancake week, is a cheerful religious holiday during which people in Belarus bid farewell to winter and celebrate the beginning of spring.
This old Slavic festival with its carnival-like atmosphere fell on Feb. 20 this year and lasts for one week. Each day of the holiday has different symbols and traditional rituals. Monday is known as Welcoming Day.
On this day, people welcome Lady Maslenitsa, who represents winter, by baking some blini, a traditional pancake, and making effigies of Lady Maslenitsa out of straw. The first blini is offered to the poor and the effigy is placed on the main street, where it will stay until the end of the holiday. Tuesday is Game Day, where people play games and enjoy outdoor activities Wednesday is Sweet Day, where people share pancakes and cakes with their loved ones. Thursday is Revelry Day where people carry the effigy of Lady Maslenitsa while enjoying outdoor activities, music, and dance. Friday is Mothers-in-law Evening, where men make pancakes for their mothers-in-law to show their appreciation. Saturday is Sisters-in-law Gathering, where newlywed wives invite their husband's relatives over and impress them with their cooking and housekeeping skills. Sunday is Forgiveness Day. It's the time to seek each other's understanding for past deeds. This is generally considered the most important day of Maslenitsa, offering the biggest public celebrations. Maslenitsa Week wraps up on this day with the traditional burning of a straw effigy of Lady Maslenitsa, symbolizing the end of winter and the arrival of spring.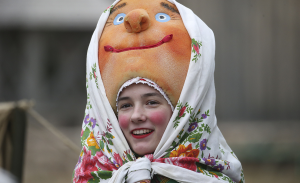 Sources : CGTN